Supporting a framework to enable systematic progression in technology innovation and workforce development transitions using research, development and deployment test-beds.
Advanced Manufacturing Performance Center
With access to an advanced semiconductor RD&D environment that includes a 300mm wafer industry-compliant silicon wafer process line, the U.S. Department of Commerce and New York State established the Advanced Manufacturing Performance (AMP) Center to support research into root causes using "lab-to-fab" testing, development of data-driven solutions using "digital twin" analysis; and, deployment of process performance management using "career pathways" training.
Our mission is to support systematic progression in advanced manufacturing solutions by aligning technology, data, and workforce development to address the advanced manufacturing challenges that confront the semiconductor industry.
AMP provides access to project-ready test-beds that include: component-level research laboratories focusing on root cause analysis; systems-level development facilities focusing on system-of-systems data correlation; and, a process-level deployment manufacturing environment for process performance management.
Research
Equipment & Support

Root Cause Research
Component Equipment Systems (CES)
"Lab-to-Fab" Supply Chain Testing

Development
Facilities & Utilities

Data Utilization Development
Building Analysis System (BAS)
"Digital Twin" SCADA Control Analysis

AMP CENTER FOCUSES ON WORKFORCE, DATA, & TECHNOLOGY
TEST-BEDS
WORKFORCE TRAINING TEST-BEDS

Michael Fancher describes how the AMP Center provides access to the tools to begin the journey for new and traditionally under-represented communities, through the AMP SkillupAmerica Learning Management System. http://amp.skillupamerica.org/
Using a system-focused approach, AMP supports targeted industry engagement to jointly curate and develop industry-compliant career content and training test-beds to drive systematic progression in skills attainment for career pathways in the semiconductor industry.
DATA UTILIZATION TEST-BEDS

CNSE and SEMI Team Up to Create an AI/Big Data Test-bed Michael Fancher of University at Albany and David Anderson, President of SEMI, discuss their collaboration under the AMP Center at the Advanced Semiconductor Manufacturing Conference (ASMC) in 2018 with a focus on artificial intelligence (AI) and big data.
TECHNOLOGY INNOVATION TEST-BEDS

The AMP Center provides testing laboratories to support root cause analysis of component equipment systems such as a turbo pump test-bed of sources of particulate contamination in the vacuum chamber of advanced semiconductor process tools.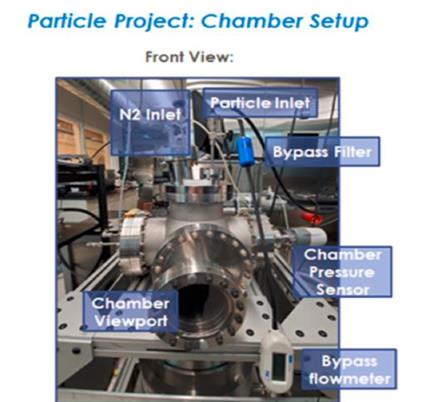 Head Office
257 Fuller Rd, Albany, NY 12203